Top luxury RVs and journeys
The idea of touring in a campervan doesn't usually inspire thoughts of luxury travel. However, some million-dollar motorhomes take this mode of travel to the next level, bearing a closer resemblance to luxury houses than RVs and often equipped with more onboard amenities than some private jets!
These opulent mansions-on-wheels are perfect for a range of activities, from exploring the countryside and enjoying festivals to corporate retreats. We've collated some of the best RVs on the market, as well as a few routes to inspire your luxury road trip. Begin your getaway in style with a group or private jet charter, landing as close as possible to your starting point to maximise your time on the road. Contact us to begin your journey today.
The world's top RVs

With its wide-open roads and demand for high-end camping, it's no surprise that the USA is home to many of the world's biggest and most luxurious motorhomes. Here are some of the country's best luxury RVs:
Marchi Mobile EleMMent Palazzo
Priced at around $3 million (USD), this ultra-extravagant RV is one of the most expensive motorhomes on the market. Known for its iconic fishbowl-style cockpit, the vehicle's contemporary interior is streets ahead of the competition. In addition to a four-metre couch area, master bedroom and kitchenette, there's space for a spa area, a rainfall shower and a large mounted TV screen in the living area.
Featherlite Vantare Platinum Plus
While big enough to transport a whole sports team, the Featherlite Vantare Platinum Plus is designed to be enjoyed by a select few people. This $2.5 million (USD) vehicle comes with luxurious finishes like rare Inca marble, copper, pearlised Italian leather and African sapele pommele. The RV's main stand-out feature is its ability to house a sports car within its huge structure – doubling up as a moving garage.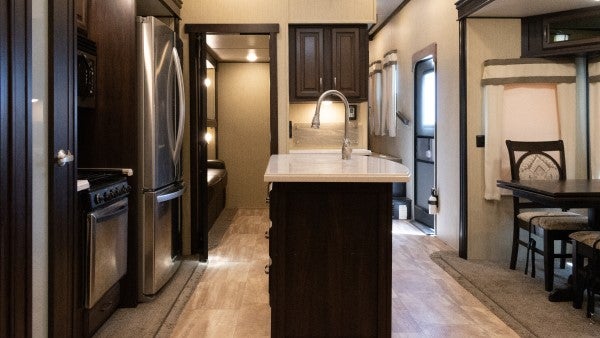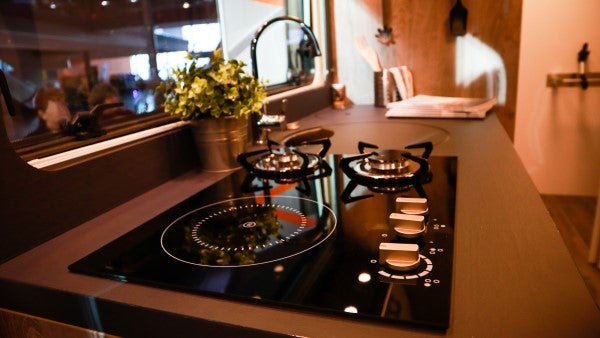 Newell Coach P50
Newell is renowned for creating stunning RVs and the Coach P50 is no different. Designed for the company's 50th anniversary in collaboration with longtime partner Porsche Design, the motorhome includes two full bathrooms, premium leather sofas, Wolf two-burner induction cooktops, GE Monogram fridges and freezers and a Fisher & Paykel dishwasher.
Newmar King Aire
This million-dollar RV was designed to be a mobile palace, complete with the sort of amenities you'd expect to find in a luxury hotel suite. Inside, you'll find an enormous living room for entertaining, a modern kitchen with hardwood cabinetry and stainless-steel finishes, and a master suite large enough for a king-size bed and a retractable 4K television.
Foretravel IH-45 Luxury Motor Coach
This RV's custom-built chassis is similar to those used in aviation, distributing vibrations through the sub-floor, floor, walls and roof for a smooth and quiet ride. Along with all the usual bells and whistles, its 20,000 kW generator is one of the best RV batteries on the market. These impressive motorhomes can cost around $1.3 million (USD), even before optional extras.
Amazing RV journeys

With its wide roads, easy-to-traverse intersections and spectacular scenery, the USA is an ideal destination for luxury RV travel.
You could start your adventure in Las Vegas, Nevada, and explore vast Zion National Park. Cruise through Lake Powell and Antelope Canyon before bringing your journey to a close in Grand Canyon National Park, or head to wine country and the West Coast's legendary beaches. Arriving in LA, breeze through Santa Barbara and Pismo Beach, explore Yosemite National Park and finish up with a few days in the mountains of Sequoia National Park.
Alternatively, discover America's picturesque Great Lakes. Arrive in Chicago and drive to the shoreline in Door County, Wisconsin, to tuck into a traditional fish boil and play a round of golf. Then hike, paddle ride or kayak at your next stop in Mackinac Island before cruising down to Silver Lake State Park's iconic sand dunes. If beaches are more your scene, start your RV journey in Orlando or Tampa, Florida, and drive down to the sun-soaked coastlines of Miami and Key West, followed by a few days at Santa Rosa RV Resort in Navarre Beach.
You may have to settle for a smaller motorhome if you'd rather drive around Europe, but the landscapes are just as impressive. Explore the lochs and the dramatic landscapes of the Scottish Highlands, head to the French Riviera and the brilliant seaside resorts of southern France, travel the gorgeous Amalfi Coast and meander from town to town, drive on the most scenic roads in the world in Norway, or go up the Portuguese coastline sampling local wines along the way – the possibilities are endless.