Time Well Spent: Migrating across Africa
Take a journey across Africa in the latest chapter of our 'Time Well Spent' series, enjoying the majesty of this beautiful continent through its wildlife, spectacular scenery, and luxurious accommodation. Highlights include trekking to see mountain gorillas, traversing the Maasai Mara alongside the Great Migration and canoeing through the vast Okavango Delta.
This itinerary has been crafted in collaboration with James Wallman, time design expert and best-selling author of Time and How to Spend it. It utilises his philosophies on time and experience design, combined with our private aircraft charter know-how, to create a life-affirming journey that is only possible by private aircraft.
Route: Rwanda > Tanzania > Zambia > Botswana > South Africa > Madagascar
Day 1: Volcanoes National Park
This morning head into the Volcanoes National Park in a small group with a dedicated guide, following in the footsteps of scouts who head out each morning to locate the gorilla families. Upon your arrival, you'll get an hour with the gorillas, watching them play and feed and interact with each other, before heading on to Bisate Lodge.
Day 2: Volcanoes National Park
Today you'll visit the Batwa, the indigenous people who live in the forested areas around the volcanoes and spend time learning about them and their traditions and culture. You can learn pottery, visit their local school, check out their crafts and participate in food preparation for lunch. You have the afternoon at leisure before dinner back at the hotel.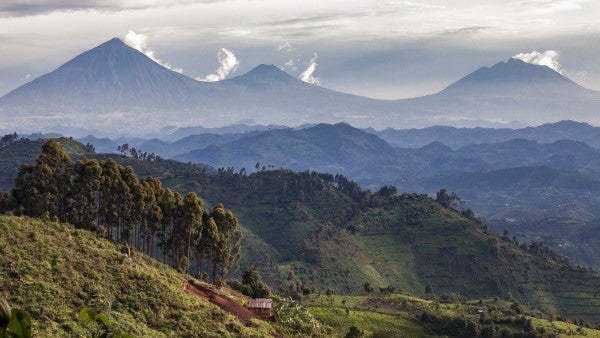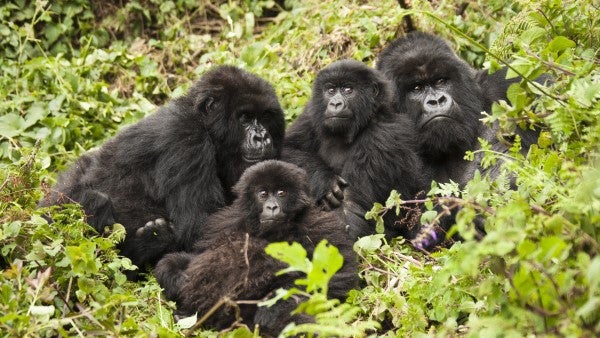 Day 3: Nyaruswiga Hills
Today, after a leisurely breakfast, you'll fly to the One Nature Nyaruswiga Serengeti where you will have the rest of the day to relax, perhaps enjoying some time on the sundeck, or in the plunge pool and hot tub. With an early morning ahead, enjoy dinner and perhaps head to the Astral observation deck before an early night.
Day 4: Nyaruswiga Hills
At sunrise, enjoy a hot air balloon ride over the Mara River to watch wildebeest, zebra and other wildlife make the perilous crossing during their annual migration. You'll then enjoy lunch back at camp and some time at leisure before enjoying an evening game drive before dinner.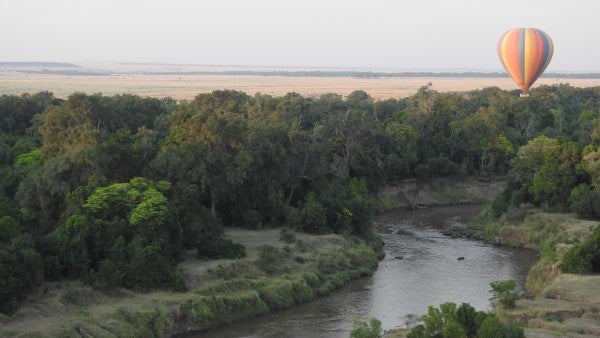 Day 5: South Luangwa National Park
After a relaxed morning, you'll fly to South Luangwa and the Chikunto Safari Lodge, you'll have the rest of your day to settle in before a night safari tracking leopards.
Day 6: Mosi-Oa-Tunya National Park
Enjoy a relaxing morning after your night safari before taking a scenic helicopter transfer to Mosi-Oa-Tunya National Park where you'll be staying at the picturesque Thorntree River Lodge. Enjoy the rest of your day at leisure ready for an early start the next day.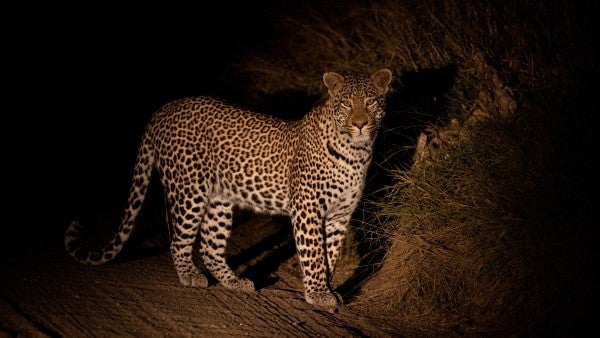 Day 7: Victoria Falls
Get up at dawn to watch the local fruit bat colony before heading back to the hotel for lunch. In the afternoon, you'll be taken to see the colourful Carmine bee-eater birds hunt for insects before enjoying sunset at the magnificent Victoria Falls, aka Mosi-Oa-Tunya, the smoke that thunders.
Day 8: Okavango Delta
After a leisurely morning, you'll head on to your next hotel, the Kwetsani Camp, nestled within the Okavango Delta. This evening, you'll enjoy dinner by the campfire, hosted by the guides and staff of the hotel as they regale you with tales of the Delta.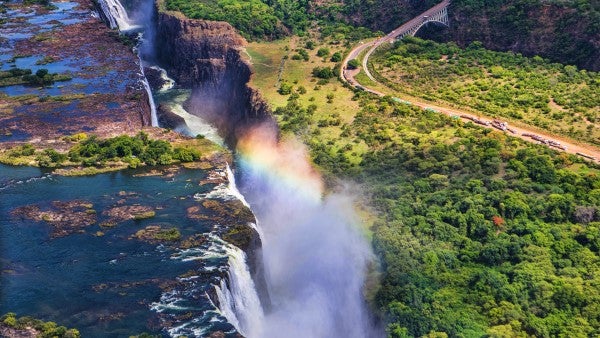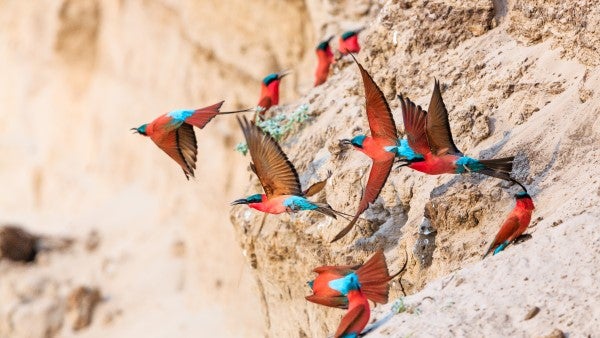 Day 9: Okavango Delta
This morning you'll head out early on a Mokoro canoe safari, punting up the waterways of the Delta looking out for elephants, hippos and crocodiles. Later you'll enjoy a sundowner and a chance to reflect on all your experiences thus far. If the skies are clear, you can request a 3am wake-up call to embark on a star gazing experience like no other at one of Africa's darkest spots.
Day 10: Elephant Sanctuary
After a leisurely morning head to Haven Elephant Sanctuary where you will meet one of the founders and learn about how the sanctuary protects and preserves the African elephant.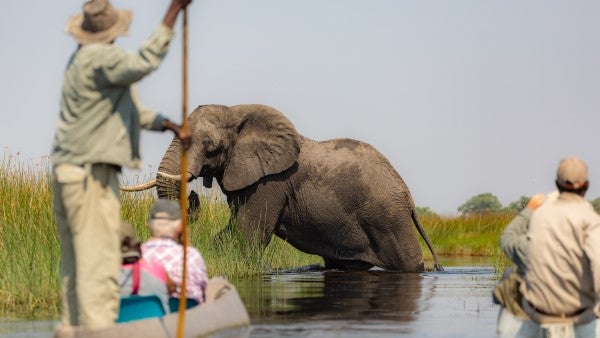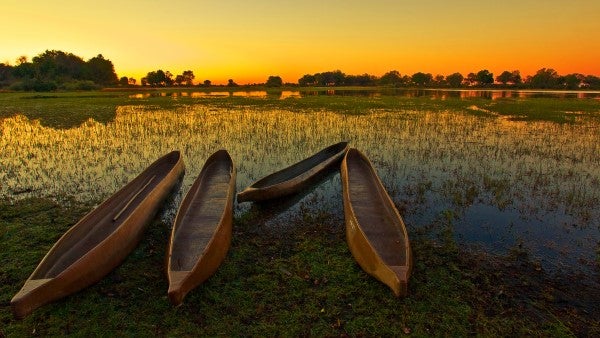 Day 11: Cape Town, South Africa
Today you'll transfer to Cape Town, where you'll spend the afternoon enjoying the beautiful natural surroundings with a guided hike on Table Mountain followed by a private cellar tour at Buitenverwachting. You'll be staying at the 21 Nettleton who will be hosting their signature braai for dinner.
Day 12: Boulders Beach
After breakfast, head to Boulders Beach where you'll be able to wander along walkways set just above the beach watching the colony of penguins below. Then you'll head out on a boat on a marine safari in search of great white sharks.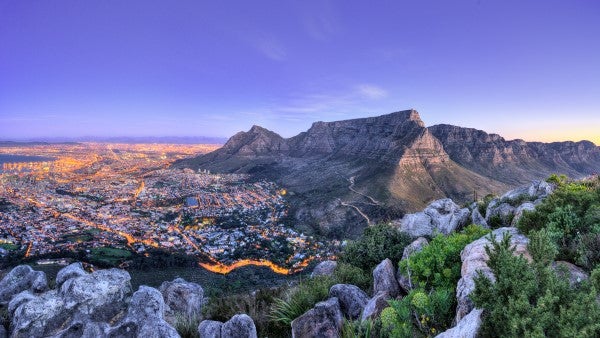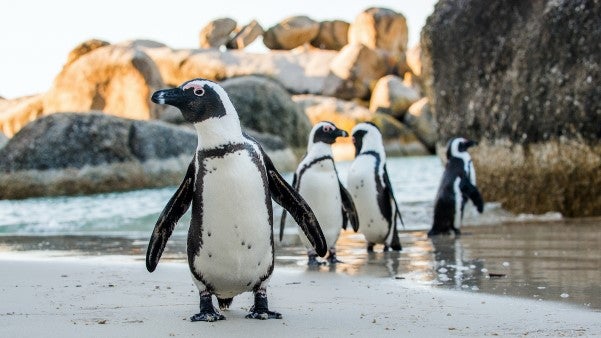 Day 13: Hermanus
Today you'll hop in a jeep down to the coastal town of Hermanus where you'll head out on a boat to watch humpback whales migrate along the coast - hopefully spotting a calf or two - before heading back to Cape Town for an afternoon at leisure.
Day 14: Madagascar
This morning, board your private aircraft to Madagascar and the Mantadia Lodge. In the evening you'll head into the Mantadia National Park accompanied by a local guide in search of rare fluorescent frogs and geckos, as well as a wealth of other local flora and fauna.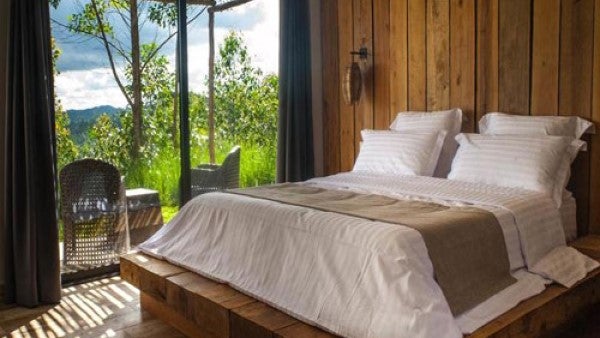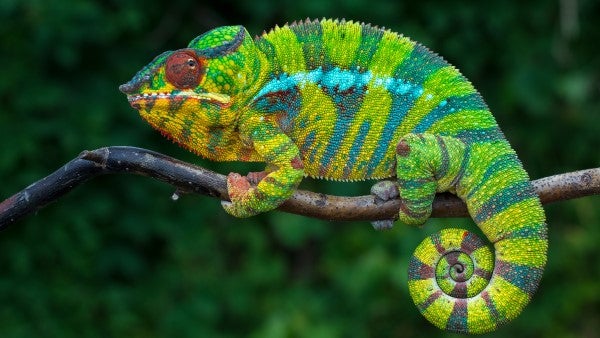 Day 15: Lake Sahambavy
After a leisurely morning hop on a helicopter down to Lake Sahambavy where you'll check into the beautiful Lac Hotel before enjoying an afternoon visit to a local tea plantation.
Day 16: Ranomafana National Park
Today you'll head into Ranomafana National Park, and trek through lush rainforest in search of the elusive golden bamboo lemurs with a local guide. You will also spend some time with the local Tanala tribe who live in the rainforest.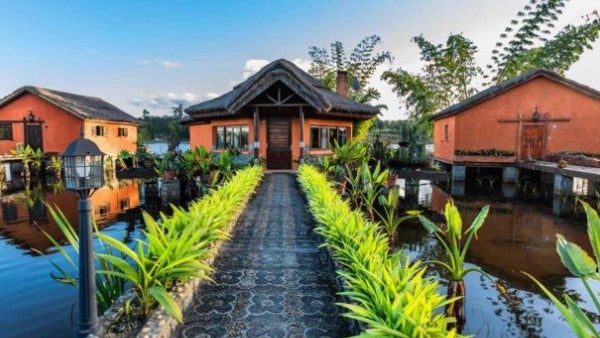 Day 17:
Enjoy a leisurely breakfast before transferring back to Ivato International Airport where your journey with us will end.
*Subject to availability and seasonality