THE EXCLUSIVE LIFESTYLE MAGAZINE FROM AIR CHARTER SERVICE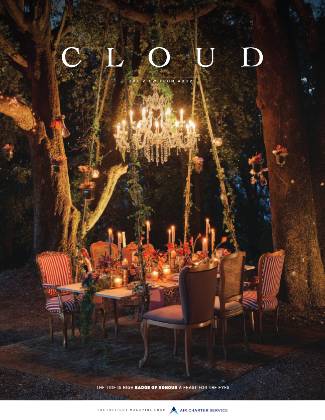 Cloud – the exclusive lifestyle magazine from Air Charter Service – is back and it's bigger and better than ever. Now redesigned, refreshed and expanded, the new Cloud offers today's discerning audience more to enlighten, entertain and inspire than ever before.
Editor James Day starts this issue with tales from his aquatic adventures as he becomes a fully licenced powerboat operator. Although it's not quite as straightforward than just turning the engine on and heading out into the ocean, he finds that taking to the seven seas is enormous fun and that it need not be as complicated as it looks…
…and some simple things can change the world, as his interesting introduction to a Swedish company applying the sustainable principles of Circular Design demonstrates. Transparent are on a mission to reshape the tech industry by creating modular electronics that can be continuously upgraded with each new invention, so we get the inside story without even needing to pick up a screwdriver.
Turning from living technology to living history, Jessica Bennett takes a look at the resurgence in interest in heraldry. This centuries-old unique symbol of identity is very much back in fashion and specially commissioned coats of arms are the latest accessory for today's celebrities and captains of industry. In doing so, they must answer the same question so many people have wrestled with over the years: what symbolises you?
While you're pondering that one, how about a lunch with a difference? Wild dining experiences are a delicious culinary trend and it's easy to see why – working up an appetite and great food are a perfect combination, after all. We explore some interesting examples that will delight the gourmets among us.
Connoisseurs of a musical kind, however, will be thrilled by Arwa Haider's glimpse behind the scenes at a company that's helping to bring classical music into the digital age. Primephonic is pioneering an expertly curated renaissance in the streaming sector and is offering a whole new experience to the Spotify generation.
Speaking of timeless icons, the Harrington jacket has been an enduring fashion icon thanks to a combination of Hollywood glamour and practical features. Mike Waters looks at the history of this classic and the story of how it defied gravity, complete with a full supporting cast including Elvis Presley, James Dean and Steve McQueen.
From one classic to another, a lucky Adam Hay-Nicholls gets to explore the resurrected Bentley 4½ Litre. First built in 1929 and a supercar of its day, it has now been brought back for an exclusive handful of admirers. Of course, this provides him with the ideal excuse to appreciate some more mechanical marvels too…
…while Lucie Muir gets to appreciate a new trend in luxury hotels. Working from home has taken on a whole new meaning over the last year, and some of the world's most prestigious hotels are offering the opportunity to step out of the office and into opulence. Perhaps your next meeting would be more fun with sun, sea and sandy beaches in the background?
Finally, in the upgraded Inside ACS section, you are invited to dream of unforgettable destinations, learn more about how Air Charter Service rose from humble beginnings to become the international operation it is today and find out more about how the company came to the rescue of people's pets during the COVID-19 pandemic.
All this and more awaits you, so enjoy the view from above with Cloud.
Link to digital edition: https://tinyurl.com/ACSCloudIssue24
DEDICATED ACCOUNT MANAGERS
NO OBLIGATIONS
25 YEARS EXPERIENCE
AVAILABLE 24/7