THE EXCLUSIVE LIFESTYLE MAGAZINE FROM AIR CHARTER SERVICE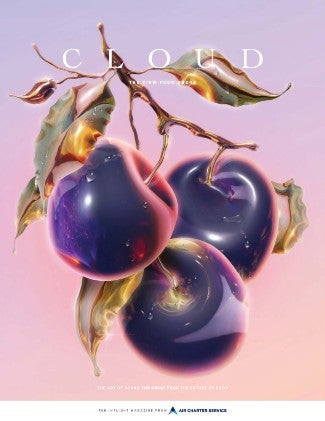 THE FEBRUARY ISSUE OF CLOUD
Welcome to issue 26 of Cloud, the lifestyle magazine from Air Charter Service.
We hope you're feeling re-energised for the year ahead, and the adventures that hopefully await.
We think our new CEO of Travel and Concierge, Ben Stevenson, is right to say many of us will never take flying for granted ever again, and that being starved of trips abroad has left us craving new experiences. Skip to page 62 to hear his tips and trends for travel in 2022, including some of the desirable destinations that should be on your radar.
Speaking of desire, it's a common thread throughout this issue, whether it's unearthing the secrets to eternal life, the drive it took for a French woman to become a Le Mans motor racing legend, or the hunger games played by the human mind in search of status. Strap yourself in for this one; it's quite the ride.
You'll find a selection of our favourite articles below, or you can enjoy the full magazine, cover to cover, here: issue 26 of Cloud
DEDICATED ACCOUNT MANAGERS
NO OBLIGATIONS
25 YEARS EXPERIENCE
AVAILABLE 24/7