Flying an incentive trip to the Caribbean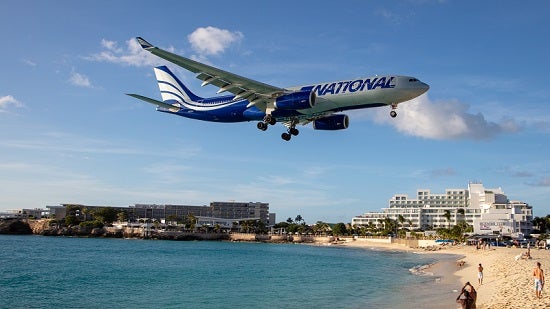 In January 2021 an HVAC company asked us to arrange a round-trip charter from Wisconsin to the Caribbean, where they were hosting an incentive trip for their top customers.
The client chose a private charter over scheduled services because it allowed them to transport the large group of 260 passengers on one aircraft. Private also meant a direct route with no connections and a hygienic onboard environment, both of which offered the client added reassurance amidst the ongoing Covid-19 pandemic. Our expert team sprang into action to source the ideal aircraft and overcome last-minute logistical obstacles.
Our Solution
Route: Wisconsin > Saint Martin > Wisconsin
Aircraft: Airbus A330-200
As the client wanted to accommodate the entire group on one flight, we recommended chartering one wide-bodied aircraft rather than reducing costs with two narrow-bodied aircraft. The Airbus A330-200 we booked was new to the U.S. charter market and offered an added wow factor with its fresh interior, split configuration and in-flight entertainment. Passengers were based in several different locations, so we worked with the client to identify the best departure point and set up a desk in the airport lobby where passengers could collect the required health documents proving they had tested negative for Covid-19 before boarding the flight. The aircraft made quite an entrance flying over the beach as it descended into Saint Martin!
A few days before the return flight, we discovered U.S. Customs couldn't send agents to the local airport to process the passengers on arrival. Our experienced team quickly looked at alternative solutions to ensure the group was quickly processed. After arranging a stop in South Carolina, the airport informed us their Covid-19 restrictions meant it would take far too long to process the large group. Thanks to our thorough research and industry contacts, in under 24 hours we pivoted again to Orlando International, reserving a dedicated section of the airport and ensuring it was fully cleaned and disinfected prior to the group's arrival so they could be processed promptly.
The Finer Details
Available 24/7: Our dedicated account manager personally took care of all the arrangements and worked around the clock to overcome last-minute logistical difficulties.
Unrivalled Contacts: We built a strong relationship with the Airport's Director of Airline Operations, who stepped in at short notice to oversee the flight's departure when our rep had to self-isolate.