On the grapevine
When curious oenophiles touch down in the United Kingdom, they're rarely disappointed. Well-established wineries in the south-east are thriving amid steadily rising temperatures, a flurry of viticultural medals and Champagne giant investment. But they are, in fact, missing a trick.
The West Country is an emerald patchwork that abruptly meets the wild Atlantic coast, scattered with thatched villages and market towns penned into Thomas Hardy and Jane Austen novels. Here, time flows differently and a robust maritime identity infuses locals as sea salt does the clean country air. Its coast has long seduced the city crowds with its blonde beaches, secluded coves and nautical-chic hotels.
But its wine-making scene has hitherto flown gloriously under the radar. That's a remarkable thing, given the diverse soils, dry and mild climate and generous supply of sunlight hours. A handful of prophetic wine growers saw its viticultural potential as far back as the 1950s, but only in the past five years have a flurry of international accolades turned heads towards this low-key and lovely stretch of the UK.
Like most English wines, the region leans towards sparkling varieties thanks to its chalk-based soil advantage. Cooler temperatures – compared to mainland Europe – mean grapes take longer to ripen and so preserve delicate characters that lend a distinctive jolt of freshness. Growth is measured, mainly because the region relishes its freedom from industrial yields and corporates to experiment with innovative growing and winemaking techniques.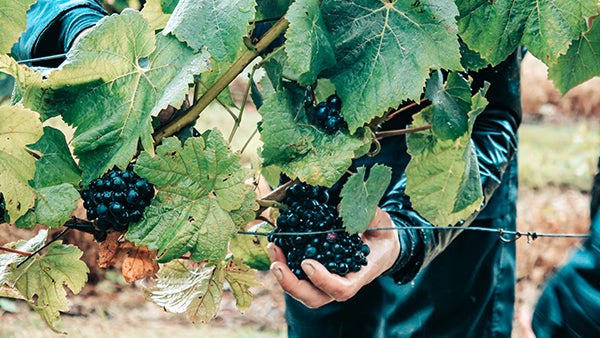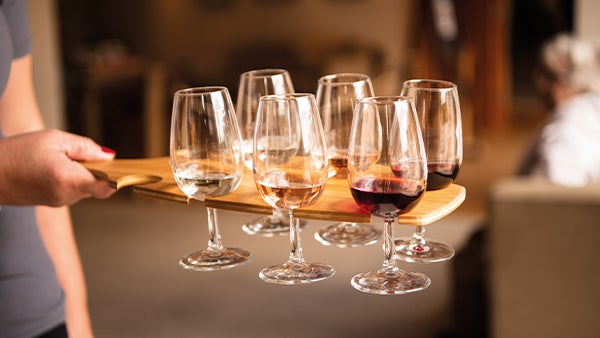 Dorset and Wiltshire
Like the wild patches of its Jurassic coast, where windswept farmland tips into sea froth, many of Dorset's vineyards are yet to be properly discovered and appreciated. Beneath acre upon acre of crops and soft pastures grazed by sheep and cows lies a golden composition: the same clay, chalk and flint that makes up Champagne's fabled terroir.
Against this background, it is no surprise that Langham Wine Estate was awarded Sparkling
Wine Producer of the Year at the 2020 International Wine and Spirit Competition – an accolade typically bestowed on prestigious Champenoise houses. Their Blanc de Blancs was lauded by the judges for its freshness and elegant finish, characteristics that arise from the soil and climate, and also for owner Justin Langham's low-intervention approach which avoids the fine or filtering process.
A little further north, Bride Valley Vineyard was founded by Steven Spurrier – an esteemed critic and revered wine expert who organised the fabled Judgement of Paris in 1976, where French wine critics blind-tasted top Chardonnays and reds. Planting vines with his wife Arabella across the family's sheep farm, their first vintage sold out in 2014 and he attributes the success of his Chardonnays, Pinot Noirs and Pinot Meunier vines to the chalky soil and sloping, south-facing plots.
The family theme continues just over the county border in Wiltshire too, where Paul and Lynn Langham's a'Beckett's Vineyard just outside Devizes produces exceptional sparkling and still wines. Meanwhile, near Amesbury, Bluestone Vineyards' family efforts are fruitful and their award-winning sparkling wines have the rare distinction of sharing the same mineral-rich soil that nearby Stonehenge was bedded into back in Neolithic times.
Devon
Hosting many of the West Country's pocket-sized vineyards, Devon's unique mosaic of independent winemakers is incredibly diverse. Its maritime climate and undulating landscape demand longer growing seasons before harvest, with impressive results.
On the fringes of Dartmoor, Tom Hodgetts planted vines with his parents across their family farm. Fourteen years on, the viticultural experiment paid off and Alder Vineyard now grows three varieties on site. "The West Country is on the edge of something very exciting," Hodgetts says. "Every vineyard here in Devon has its own personal story of hard work and determination that goes into each and every bottle of wine."
Many West Country growers riff on the region's Roman wine-making history and particularly
Old Walls Vineyard, which lies on a 2,000-year-old Roman plot near Bishopsteignton. With its own balmy micro-climate and south-facing vines, the vineyard's heritage and potential soon caught the eyes of investors who swooped in to open a restaurant and lodges too.
Cornwall
Courtesy of its long stretches of sunlight and mild climate, Cornwall is another stellar region where last year's generous summer and kind autumn yielded impressive harvests and Champagne-level sparkling wines. A plethora of wine makers now toil with extensive teams in vineyards up and down the Poldarkian county, emphasising the wines' salty character and leveraging both the protection afforded by its rich topography and the nutrients from its mineral-laden soil.
The county is already considered a foodie trove, but Cornish wines have stepped up to support its swelling gastronomic reputation too and vineyards such as Camel Valley can be found on the county's top restaurant menus, at the Tate Modern in London and even as far away as Japan. Ex-Royal Air Force pilot Bob Lindo and his wife Annie planted their first vines along the slopes of the Camel Valley back in 1989 and won an International Wine Challenge Gold Medal for their 'Cornwall' sparkling wine – the first gold medal awarded to a non-Champenoise wine. This paved the way for other English winemakers including their son Sam, who has since taken over as winemaker and scooped UK Winemaker of the Year in 2007.
Such is the community spirit of Cornwall's wine scene that Polgoon Vineyard, not far from Penzance, was founded on John and Kim Coulson's shared dream and golden nuggets of wisdom from Bob Lindo himself. Having started as fish merchants in Newlyn, the couple swapped the coast for the countryside, planted vines and set about producing some of the county's top artisan wines. Having mastered an award-winning range of sparkling wines, they ventured into stills too and the result was superb whites from Bacchus and Sauvignon Blanc, rosé from Pinot Noir and a wonderful fruit-driven red from Rondo and Pinot Noir Précoce (a gift from 2022's glorious weather). The views are as spectacular as the wines, with Polgoon's sun-drenched hills peering over the turquoise waters of Mount Bay.
Somerset
Somerset is perhaps the most 'discovered' county of the region, though its vineyards relish their continued hidden gem status. Combing a 4.5-hectare patch of a sprawling north Somerset estate, Aldwick Vineyards planted in 2008 and 2010, the first awards arrived in 2013 and today the team hail their hands-on approach, with vines hand-pruned in winter, hand-tended throughout spring and summer and hand-harvested in autumn, as the key to their success. However, Vineyard Manager Will White is keen to update the 'just as good as Champagne' narrative. "Champagne is an inspiration, but it's not who we want to mimic," he says. "We have different soils, different weather and, thus, different wine. I think we need to change the conversation regarding English wine."
The West Country's agricultural knowledge is passed down like precious heirlooms through generations and vines are tended to with passion long before profit, and it's this family-run, boutique aspect that gives its vineyards enviable room to manoeuvre and innovate. The challenge will be how they manage their inevitable success, preserving their family-owned character and the freedom to continually tinker with the growing, pressing, fermenting and ageing process. In the meantime, scan the wine list the next time you're out to dinner for, say, a Langham Blanc de Blancs or a Camel Valley sparkling red and make your own judgement on the West Country's viticultural promise.


To find out more or to discuss bookings, please contact the ACS Travel and Concierge team on +44 (0) 20 8335 1070 or travel@aircharterservice.com

Picture credit: Alder Vineyard (banner), Aldwick Estate (thumb), Knightor Winery (body image left), Aldwick Estate (body image right.
Author credit: Rosalyn Wikeley