Ski Sundae
The Ultima Courchevel Belvédère is the uber-luxe boutique Alps hotel you book when you don't want to be seen. I stayed a week and never saw a soul… apart from my butler and my personal chef.
Established by two Swiss moneymen with an eye for bold design, the award-winning Ultima Collection already has art-filled bijoux ski properties in Gstaad, Crans-Montana and Megève, as well as a summer pad in Corfu and a grand villa in Geneva. Courchevel feels like their most confident opening yet. Given that the gondolas on this side of the Trois Vallées are sponsored by Gucci, they're catering to the right audience. Apparently, 95 per cent of the Ultima's guests arrive by private jet.
At an altitude of 1,750m, the resort is set just below France's prestigious Courchevel in a quiet hamlet called Belvédère. Located metres from a blue run and button lift, it enjoys uninterrupted views of forested mountains and boasts 13 ski-in, ski-out multi-floor balconied residences and a couple of bubbling outdoor pools.
Each residence has four to five bedrooms and is serviced by a private elevator. Rather than the usual couples, it appears to have been designed for families or groups of friends. The residences feel like homes rather than a hotel. There's a lobby bar and a golden-lit poolside dining room (never saw anyone there). There are two separate spas because the property is divided in half by a road – one doesn't wish to have to pad along slushy tarmac. Each spa offers personalised and innovative treatments, such as yoga-focused cold therapy to soothe fiery limbs after a morning on the moguls.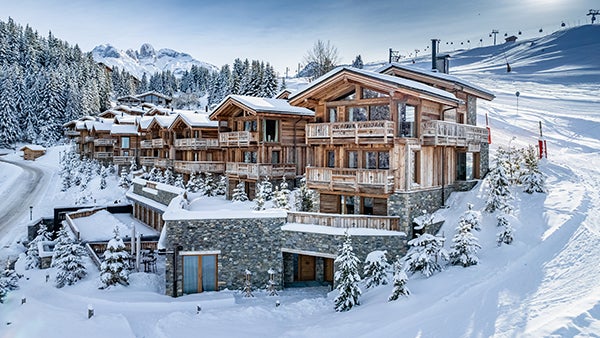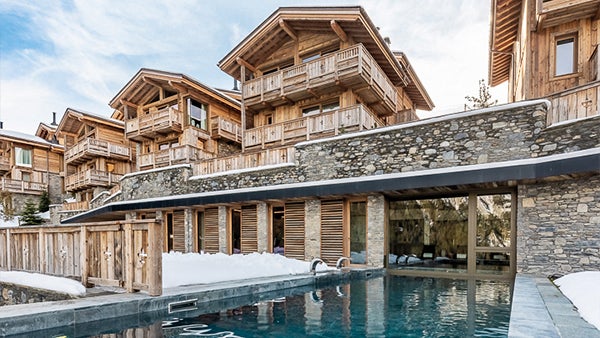 Here are the things I demand from an upscale ski chalet. Roaring fireplace: check. Employee to pull my pre-warmed ski boots on and off: check. Cristal on ice every time I come off the piste: check. Telepathic provision of génépi: check. Most important is the food – by which I mean cheese. The Ultima excels across the menu.
The highlights that stick in my mind: red snapper with a generous spoonful of beluga; an entire roasted celeriac; truffled cheese fondue (obviously). I mean, who comes to a place like this and doesn't go with the truffle? In fact, the stand-out dish we had – and I speak as a passionate carnivore – was a meat-free lasagne made with flavour-bursting cèpe mushrooms and creamy truffled béchamel. It was so good and so filling we couldn't eat it all so, ingeniously, our chef turned it into sandwiches for our trip to the airport on our last day. Yes, together we invented the lasagne sandwich. I urge you to try it.
Another thing a good ski holiday demands is books, and the Ultima has the largest hotel library I've seen. Not in terms of the number of tomes, but of the sheer size of them – mostly by Assouline. There are arts and travel books which are so big that, if you fell asleep in bed with one on top of you, you'd likely suffocate. I took out a copy of Roy Lichtenstein – The Impossible Collection. Worth as much as a season's ski pass, I thought I might have to pay a deposit.
But no, the art here is to be enjoyed. Works include images of Hergé's Tintin hunting Bitcoin, Mickey Mouse and a couple of oversized black and gold dollar bills by the Singaporean-Dutch artist James Chiew on the corridor walls. It's not to everyone's taste, mind you, so perhaps it's for the best that I didn't meet the other guests. It wouldn't do to have disagreements over art spoil something like this, would it?
To find out more, please contact the ACS Travel and Concierge team on +44 (0) 20 8335 1070 or travel@aircharterservice.com
Picture credit: Ultima Courchevel Belvédère
Author credit: Adam Hay-Nicholls