Whenever, wherever
Unrivalled customer service is essential to ACS and is especially vital when it comes to our work with helicopters.
Edward Mayhew, our Senior UK Helicopter Specialist, explains: "Jets often fly via set flight paths, like a train on a track, whereas helicopters can go almost anywhere. It makes flights more varied and personal."
Establishing requirements early is a key part of Edward's role: "As soon as a client contacts us, we discuss any further details which will allow us to offer the best options. Often we can suggest solutions that the client may not be aware of to enhance their travel plans. Clients usually have a fixed agenda of where they need to be and when, so timings are key, and our experienced team ensures every detail is covered. First-time clients often have questions, so we are available 24 hours a day via phone, email or WhatsApp to answer quickly."
Unique requirements for every charter produce fresh challenges. "For example, someone may want a transfer from Aberdeen airport to their highland hotel retreat, with weekend luggage and a sleeping toddler, so a luxuriously roomy Airbus H135 with its low noise profile, considerable baggage hold, and smooth flight would work well. Another may be looking for a short hop from home to work to beat the morning commute, so the cost-effective and agile twin squirrel AS335 with indulgences such as premium saffiano leather seats, air conditioning and noise-cancelling headsets fits the bill. It's all about matching the right aircraft and journey to the client and their needs. And we can also arrange any special requests, such as catering or onward transport."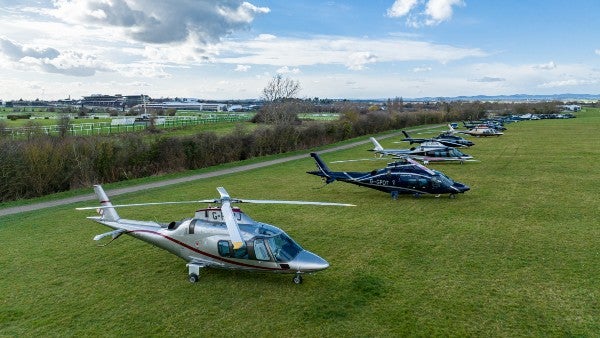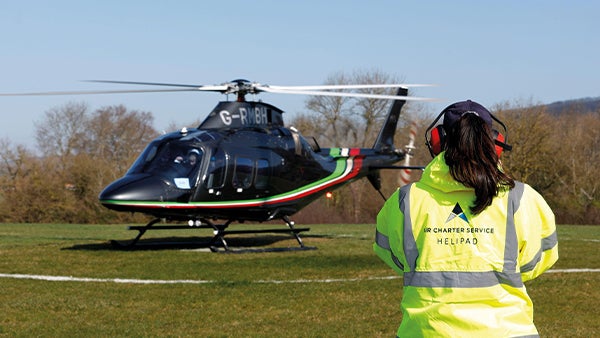 Aircraft and events
In the UK, for example, ACS charters hundreds of helicopters each year, with ambitious growth plans in 2023 due to an increased demand for jet connections to major cities and
more in-person business meetings. ACS has a close relationship with the list of UK-based helicopter operators to find the right solution.
"This gives us access to everything, from smaller aircraft such as the five-seat AS350 all the way to the 16-seat S92s. We have an intimate knowledge of each aircraft, down to the detail
of the colour of the interior leather. We are also building relationships with overseas operators, which is proving a huge success, with demand for flights around Nice and Monaco."
So, what are the challenges our team faces when chartering helicopters?
"It often involves a lot more detail and planning, as the sites helicopters fly into can need additional support, such as ground lighting, temporary helipad set-up and ground
marshalling," explains Edward. "This means that a number of skilled teams have to come together to make flights possible. But our customers don't need to worry about this, as for them, the experience is that of an effortless and tailored door-to-door service. Often, we will have an ACS representative on-site to meet clients and help with any questions or luggage. If we are collecting someone from a private site rather than an airport, we will ensure the site is suitable and as close to the desired departure location as possible."
One particularly memorable event for which ACS charters helicopters is Cheltenham Festival, an annual horse racing event held every March in Gloucestershire, UK.
"Set-up for the event takes two weeks and involves turning a wet field into a fully functioning airfield ready to welcome clients from all over the world. It's an event in its own right," marvels Edward.
There's a weather station to set up, an air traffic control tower to erect, and a runway to be drawn with runway headings, markers and lights. Teams are trained to welcome passengers off their aircraft and guide them safely to the purpose-built terminal, where passengers mingle with other attendees while sipping welcome beverages before taking chauffeur-driven cars the short distance to the races.
"The atmosphere on day one is amazing," says Edward. "Around 45 talented individuals gather in the early hours to put the finishing touches to the airfield. As the fog clears with the rising sun, people take their positions. Headsets are turned onto the airfield frequency and the clearances start coming through. From then on, it's a symphony of helicopters landing and passengers disembarking, carefully orchestrated by skilled teams.
"For passengers, the experience is seamless and results in them arriving at the terminal, drink in hand, without the lengthy car journey or morning queues. For me and many other professionals there, the satisfaction is getting it just right in such a complex and demanding environment."
Open options
Cheltenham Festival is just one of the events that keeps Edward and his team busy in the UK. Royal Ascot kicks off a busy summer season, while the winter brings lots of parties travelling to remote areas of Scotland or Yorkshire. "Throughout the year, high-profile weddings and family events use helicopters to bring guests to their destination of choice in comfort," Edward continues. "Several companies also use them to bring teams together for annual conferences and meetings."
Helicopters are most practical for flights under two hours or for attending multiple locations in a day. However, longer flights can be arranged, as Edward explains: "The longest we have done was Battersea to Oban, Scotland, which is just under three hours by helicopter but would be nearly 10 hours by car." One of the biggest time-saving flights is one of the shortest, regularly taken by a client: "Biggin Hill to Battersea is only eight minutes by helicopter, but can take 60-90 minutes by car."
Versatility is the watchword for helicopter charters, transporting customers to events and locations no matter how remote. A charter with ACS means you arrive in comfort, safe in the knowledge that every detail has been taken care of, ready for your day.
Find out more
Visit aircharterservice.com/private-charter/helicopter
Picture credit: Alamy