Where we're going, we don't need fuel
Nostalgia is powerful. It gets presidents elected and wins billions in advertising spend. Between the 17th and 19th centuries, it was considered a psychopathological disorder – but then again, so was 'weeping' – whereas studies today suggest it can boost our mood, self-esteem, optimism and feeling of meaning in life. So, can you manifest this in a car?
DeLorean certainly thinks so. If that name rings a bell, it was the time machine with a flux capacitor in the Back to the Future trilogy. Amusingly, it was due to be a fridge until executive producer Steven Spielberg feared children would mimic the movie, climb into one and inadvertently lock themselves in, vetoing it for the DMC-12 instead. The big news is that DeLorean is back with its first car in 40 years and it's packed with nostalgic nods to the past. But first, let's time-travel to the 1980s and pick up a tale of drug trafficking, the British government and a factory in a warzone.
Back to…    
The DeLorean Motor Company was the brainchild of the American automotive magnate, John DeLorean. In short, he promised the world and delivered very little. After scrambling around for a base to build the DMC-12, DeLorean settled on Belfast in Northern Ireland. That was down to substantial financial incentives of roughly £84 million ($120 million at the time) from the then-British government, which was keen to curb the highest unemployment levels in Europe that were partly blamed for fuelling sectarian violence during The Troubles.
While building the world's most modern car factory in what was essentially a warzone was noble on the surface, it was a smokescreen for a litany of internal issues. You see, the DMC-12 – with its iconic gullwing doors and brushed stainless steel appearance – was bold, but also a bit of a turkey. In four years, just 8,500 cars were produced and only half sold, all while John DeLorean was allegedly funnelling British taxpayers' money to a Panamanian bank account.
By the end of 1982, he had been charged with alleged cocaine trafficking to the tune of $24 million, while the DeLorean Motor Company was now insolvent and reportedly $76 million in debt. DeLorean successfully defended himself in court, claiming entrapment by the FBI, but the damage had been done – DMC had declared bankruptcy and ceased operations. If this has whetted your appetite, there is a fabulous Netflix documentary for filling in the gaps called Myth & Mogul: John DeLorean.
The irony is that the ill-fated car at the centre of all this finally shot to fame with the release of Back to the Future in 1985 – long after production of the DMC-12 had ground to a halt for good.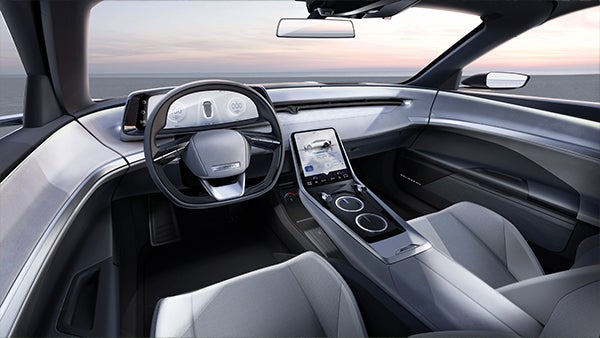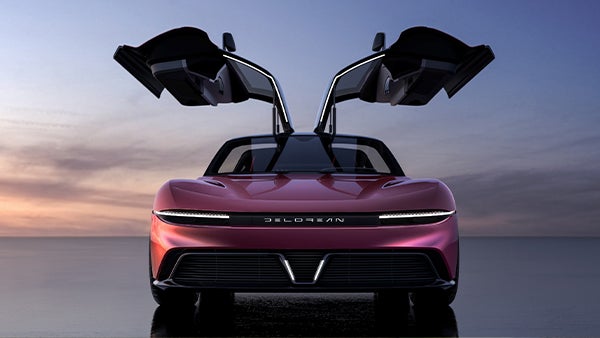 …the future
Fast-forward to today and DMC has risen like a phoenix from the ashes to become DeLorean Motors Reimagined. Resurrected as a brand in 1995 by a British-born mechanic from Liverpool named Stephen Wynne, the company now based in San Antonio, Texas, is on the cusp of releasing the Alpha5 – an all-electric supercar with a range of 300 miles that is capable of hitting 0-60mph in less than three seconds.
"Our goal was to bridge the gap between the past and the future, so we produced extensions of the DMC-12 that would have been icons in their time to create the next generation of vehicles, starting with the Alpha5," says CEO Joost de Vries.
It takes plenty of cues from its film-star predecessor, such as a louvred rear window, gullwing doors, mock DMC-12 controls fashioned into USB ports, an instrument cluster surround reminiscent of the original and the option of retro dials on the digital display. There are also several hat tips to the films; an initial run of just 88 cars will be produced (before 9,351 follow) and you need an $88 lifetime Alphas Club membership to buy one, both in reference to the 88mph that Marty McFly and Doc Brown had to reach in the DMC-12 to initiate time travel. Sidenote: the Alpha5 promises to reach that figure in 4.35 seconds, compared to circa-30 seconds in the DMC-12.
DMR's fondness for the movies seems somewhat misguided, however, given that it's currently trying to sue Universal Pictures for alleged unpaid royalties. And the weirdness doesn't end there. The car comes with a wearable you share with a loved one so that their heartbeat is displayed on a screen while you're driving and their body temperature becomes your seat warmer. A virtual hug squeezing the wings of the seat can be sent, while a virtual kiss blows air on the back of your neck. Finally, transfer your phone contacts to the car and the Alpha5 alerts you if they're in the vicinity.
This is heavy
At least an exquisite sound system promises to belt out 'The Power of Love' in conventional fashion. Okay, so DeLorean has turned to a company that has never developed in-car sound before, but Cambridge Audio has been an award-winning hi-fi pioneer since 1968 with die-hard fans to rival any movie franchise.
"The team driving the DeLorean project have many decades of automotive experience between them across a range of traditional and EV automotive brands and, coupled with Cambridge Audio's 50-plus years of acoustic and amplifier design expertise, we are very confident in the performance benchmarks we have set," Charlie Henderson, marketing director at Cambridge Audio tells Cloud. "It is the first time in Cambridge Audio's history we felt that an automotive brand mirroring our own sense of rebellious spirit has come along and we have, especially in recent years, been adding capabilities in this area with colleagues who have been deeply involved in the automotive audio space."
The question remains: why not electrify the original Back to the Future car instead? "We worked with the owners of DeLorean years ago to try to electrify the 1980s DMC-12. It worked fine. However, the required legislation was not ratified. We could not build it," explains de Vries, who was indirectly involved with the company before becoming CEO. "Then we started digging deeper and found the brand is just incredibly vibrant, so we got the right group of investors, the right technology and the designers to bring it back – 30-40 per cent of the world already knows about DeLorean, so you do not have to explain it."
He adds: "John DeLorean and his team built a car that was an instant icon. That brand has expanded and expanded since then."
But wait – that's not all, folks. Just as Marty exclaimed in the movies, this sounds pretty heavy. Another DeLorean to rival the Alpha5 is reportedly waiting in the (gull)wings. Little is known about DeLorean Next Generation Motors, other than that it's backed by John's daughter, Kat, and she's not particularly pleased about DMR's existence. All we know is the JZD (affectionately named after John Zachary DeLorean, who passed away in 2005) is due to be unveiled in Detroit later this year, just months before the first Alpha5s are expected to arrive in 2024. Great Scott!
Author Credit: James Day